When it comes to senior living, finding the right place is critical for long-term health. There are many types for many different lifestyles. But how do you know what option will help you plan for the future?
A continuum of care is available in La Verne, CA. These communities make the transition to higher levels of care much more manageable. Given the circumstances, knowing when to move from assisted living to a nursing home can be challenging.
Here in La Verne, CA, Hillcrest is the leading retirement community with many personalized options for seniors needing extra assistance. Let's take a closer look at when it's time to move from assisted living to a nursing home. This move could be temporary or permanent, depending on the situation.
Recognizing Changing Care Needs
Health Deterioration: When you notice a significant decline in your loved one's health, such as frequent hospitalizations, deteriorating mobility, or cognitive decline, it's a clear signal. Consider discussing the potential move with their health care provider.
Increasing Care Demands: As care needs increase, assisted living may no longer provide the necessary level of support. If your loved one requires more assistance with daily activities like bathing, dressing, or medication management, it's a strong indicator.
Safety Concerns: Frequent accidents, falls, or unexplained injuries can be a red flag. Nursing homes have specialized equipment and staff to ensure a safer environment, especially for those with mobility issues.
Why do seniors need nursing homes?
Think about the typical trajectory of an older adult. We'll use the example of a senior named Mary.
Mary was a senior living in La Verne, California. At 82, Mary was still vibrant, lively, and independent. She loved spending her days at the La Verne senior center, where she could chat with friends, play card games, and participate in athletic activities. However, Mary eventually needed more help at home. She decided that it was time to move into assisted living. It was a preventative measure to be closer to medical care should anything happen.
Mary made arrangements to move into an assisted living facility near her home. For several months, everything worked out fine. However, an unfortunate fall left Mary immobile and reliant on a higher level of care.
Her doctors prescribed physical therapy. The severity of her condition required nursing home care. Mary transferred to a nursing home where skilled assistance was available round-the-clock. It was, of course, difficult and stressful to make such a move in her condition.
However, she eventually regained the strength to return to her assisted living apartment through therapy and advanced care therapies. The hassle of moving back and forth between facilities was over.
The point of Mary's story is that life can change instantly. Whether an older adult lives at home or in a senior living community, the transition to a nursing home can come anytime and without warning. Mary could have avoided a lot of hassles by deciding to move to a continuing care retirement community (CCRC) in Los Angeles.
Assisted Living vs. Nursing Homes
Assisted living helps older adults live independently. Nursing homes provide medical care to return seniors to their previous independence levels following an injury or procedure.
ASSISTED LIVING
Assisted living is ideal for seniors who need help with daily tasks. The basic services typically include bathing, dressing, and medication reminders. Assisted living residents do not require skilled nursing services.
These types of senior living communities typically provide meals and snacks, recreational activities, transportation services, and assistance with tasks such as laundry and housekeeping.
In addition to providing supportive services, many assisted living facilities also offer amenities like:
Private apartments
On-site fitness centers
Libraries
Movie theaters
Beauty salons
Courtyards
Walking path
NURSING HOMES
Nursing homes provide 24-hour medical care to patients needing assistance due to age-related illnesses, injuries, or disabilities. Residents typically require more intensive medical assistance beyond eating or bathing. Some include:
Wound care
Palliative care
Tube feeding
Intravenous therapy
Physical, occupational, and speech therapies
Nursing home care is generally a short-term care solution. Many seniors return home or to their senior living community unless they are living with a chronic condition.
CCRC: Los Angeles Options
Moving between services in a CCRC is seamless. A continuum of care is available at Hillcrest in Los Angeles County. Our senior living neighborhood includes everything from customizable single-family homes to accessible apartments. Every resident has access to hassle-free living and resort-style amenities:
House cleaning
Laundry
Transportation
Fine dining
24/7 security
Art gallery
Aquatic and fitness center
Village Center
Chapel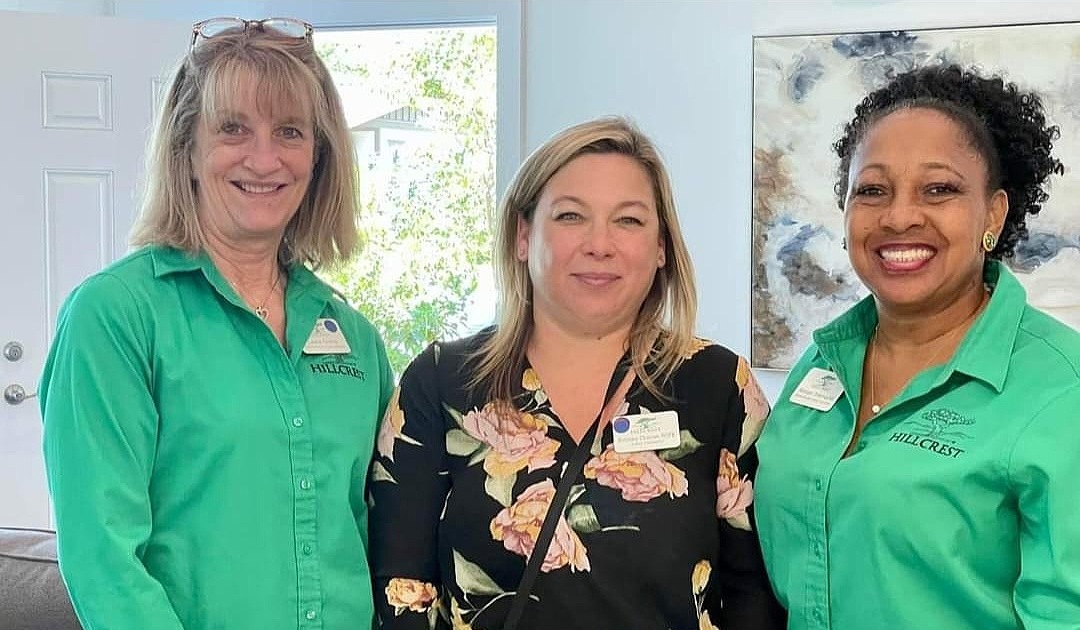 Seniors needing more complex medical attention than assisted living can provide often have to scramble to find nursing home care. Hillcrest residents do not have to face this option.
Hillcrest facilitates senior living for all lifestyles on one campus, offering:
Independent living
Residential living
Assisted living
Memory care
Respite care
Nursing care
Hillcrest: A Remarkable Retirement Community
At Hillcrest, we believe every senior should have access to quality care tailored specifically for them throughout their journey in life. If considering when to move from assisted living to a nursing home seems overwhelming, our continuum of care offers seniors all levels of senior care, from independent living through advanced nursing care.
Find our senior living campus in beautiful La Verne, California. Contact us today for more information on how we can assist your loved one during this transition.