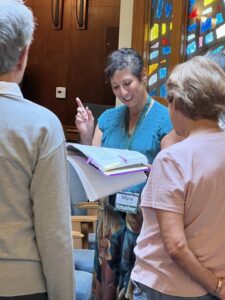 Sixty-four-year-old Myra Solano Garcia has a beautiful story about living with early-onset dementia and being an advocate for others, such as raising awareness for Latinos and other minorities with dementia.
Myra also volunteers at Hillcrest, a remarkable retirement community in La Verne. Hillcrest is a continuing care retirement community (CCRC) that encompasses many levels of care, including independent living, assisted living, memory care, and skilled nursing care, making aging in place a convenience for seniors.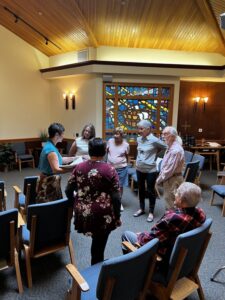 Myra regularly visits and leads memory care residents in music therapy sessions inside the community chapel. Hillcrest holds a special place in Myra's heart, as she was formerly the Chief Philanthropy Officer of the company until Oct. 2021, when she had to quit working.
The following quotes come from a feature article about Myra in AARP, published on Nov. 16, 2022: '"I sing for them and with them," she says of the memory care residents. "I feel they're my people. They're way further along than I am, and it brings me joy to be able to help them."
At times, when she's with them, Garcia sees a reflection of her future.
"It's going to be me … there's no doubt," she says. "We're all going to go. It's just a question of when and how, and this is my how. I don't need to know the when. I'm just going to keep doing what I'm doing and trying to be as viable as possible."
Myra hosting a music therapy session
In California, the number of people aged 65 and older with Alzheimer's is projected to increase from 690,000 in 2020 to 840,000 in 2025, a 21.7% increase within five years. This statistic is an estimate from the Alzheimer's Association.
Communities like Hillcrest Senior Living are looking to combat this statistic and provide an all-encompassing resource for families who are battling dementia.
Are you ready to find help for your loved one?
Contact us today to see how Hillcrest is leading the way as a continuing care retirement community in La Verne, CA.